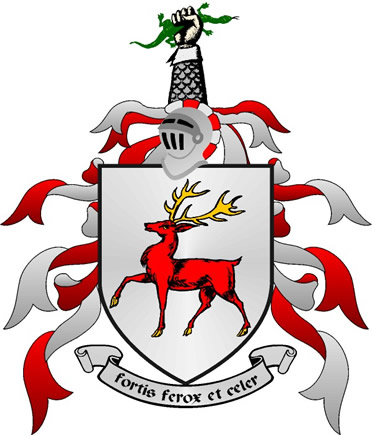 McCarthy Family History
No other Irish surname which the prefix "Mac" (or "Mc") approaches MacCarthy in numerical strength. The abbreviated form Carthy is fairly common, but MacCarthy is a name which has very generally retained the prefix. It is among the dozen commonest names in Ireland as a whole, due to the very large numbers of MacCarthys in Co. Cork which accounts for some sixty per cent of them. Charles O'Conor describes the sept as "the most eminent by far of the noble families of the south". The name from the earliest times has been associated with south Munster or Desmond. The third century King of Munster, Oilioll Olum, had two sons Eoghan and Cormac Cas. At his death North Munster (Thomond) was inherited by the latter (whence the Dalcassians), and South Munster (Desmond) by Eoghan. The families which descended from this Eoghan were known, before the introduction of surnames, as the Eoghanacht, and the surnames MacCarthy (in Irish Mac Cárthaigh) is derived from Cárthach, lord of the Eoghanacht, who, the Four Masters tell us, met his death in a house deliberately set on fire by one of the Lonergans in 1045. Carthach was King of Cashel circa 1040, at a time when Donncha, son of Brian Boru, was King of Munster. Carthach was part of the dynasty claiming descent from Eoghan, one of the sons of Olloll Ollum, the semi-legendary, third-century king of Munster. The Eoghanacht, as they were known, had dominated Munster virtually unchallenged until the meteoric rise of Brian, part of the rival Dal gCais, who claimed descent from Cas, another son of Oiloll Ollum. The Eoghanacht resisted the Dal gCais fiercely, with the result that the MacCarthys and the O'Briens, with their respective allies, waged bitter, intermittent war on each other for almost a century and a half. In the middle of the twelfth century, the struggle was finally resolved with the expulsion of the MacCarthys from their homeland in the Golden Vale in Co. Tipperary. They moved south, into the historic territory of Desmond, and it is with this area, which includes the modern counties of Cork and Kerry, that they have been most strongly associated ever since. Despite their displacement, the MacCarthys retained their ability to rule. For almost five centuries they dominated much of Munster, with four distinct branches: those led by the MacCarthy Mór (Great MacCarthy), nominal head of all the MacCarthys, who ruled over much of south Kerry, the Duhallow MacCarthys, who controlled northwest Cork; MacCarthy Riabhach or Reagh ('grey') based in Carbery in southwest Cork; and MacCarthy Muskerry, on the Cork / Kerry border. Each of these families continued resistance to Norman and English encroachment up to the seventeenth century when, like virtually all the Gaelic aristocracy, they lost almost everything.
The number of references to the MacCarthys in the Annals, especially the "Annals of Innisfallen", is very great. Cárthach was the son of Saorbreathach, a Gaelic name which is anglicised as Justin, and in the latter form has been in continuous use among various branches of MacCarthys for centuries. Another christian name similarly associated with them is Finghin, anglice Fineen, but for some centuries past, for some obscure reason, Florence (colloquially Flurry) has been used as the English form. From the thirteenth century, when Fineen MacCarthy decisively defeated the Geraldines in 1261, down to the present day, Fineen or Florence MacCarthys and Justin MacCarthys have been very prominent among the many distinguished men of the name in Irish military, political and cultural history.
Eleven septs of the illustrious McCarthy family in Kerry are given in Kings History of Co. Kerry
(1) Sliocht Owen Mór of Coshmaing
(2) Sliocht Cormac of Dunguile
(3) Sliocht Fyneen Duff of Ardeanaght
(4) Sliocht Clan Donnell Finn
(5) Sliocht nInghean Riddery
(6) Sliocht Donnell Brick
(7) Sliocht Nedeen
(8) Sliocht Clan Teige Kittagh
(9) Sliocht Clan Dermond
(10) Sliocht Clan Donnell Roe
(11) Sliocht MacFyncen
According to Windele, the MacCarthy Mór was inaugurated at Lisban-na-Cahir, in Kerry; at which ceremony presided O'Sullivan Mór and O'Donoghoe Mór. His Captains of war were the O'Rourkes, probably a branch of the O'Rourkes, princes of Brefney; the MacEgans were his hereditary Brehons (or Judges): and the O'Dalys and O'Duinins were his hereditary poets and antiquaries.
Muiredach Mac Carthaig (1012-c. 1092), King of Munster, was succeeded by his son Cormac (died 1138), who was not only King of Munster, but also a bishop. For centuries, until the arrival of St Patrick, the spectacular Rock of Cashel had been the seat of the Munster kings. In 1101, King Murtagh O Brien granted it to the Church. Here, between 1122 and 1138, Cormac built what is known to this day as Cormac's chapel. Its design demonstrates Irish awareness of Continental trends.
When Cormac died he was buried at Cashel. A century ago, when his tomb was opened, the ancient crozier of Lismore, which is thought to have been Cormac's, was found. It is now in the National Museum. The London Museum has a rare Elizabethan transcript of a charter granted to King Dermod, son of Cormac MacCarthy. These princely MacCarthys built splendid castles all over their Munster territory, at Muckross, Macroom, Killala, Mourne, Timoleague, Srugrena, Kanturk and many more.
Four personal names stand out in the MacCarthy lineage, Saorbhreathach which became Justin, Fineen anglicised to Florence, Donal and Cormac. In about 1446, one of these Cormac MacCarthys, Cormac Laidir (the strong), Lord of Muskerry, built the enduring Blarney Castle. Although he fought with the English against the local FitzGeralds, Cormac MacDermot MacCarthy struggled to preserve his own territory. He put off Queen Elizabeth's demands for his allegiance with what she described as "fair words and soft speech" - pleasant talk intended to deceive without offending, which is how the Blarney stone acquired its reputation for imparting eloquence to those who succeed in kissing it. A family tradition holds that the Blarney stone is a piece of the "Stone of Destiny" - the inauguration stone of the kings of Scotland, sent by King Robert Bruce to the MacCarthy kings of Desmond. They were to give it to Robert's brother, Edward, who attempted to become High King of Ireland by driving out the English.
In the early 1600s, the fierce MacDonagh MacCarthy, Lord of Duhallow, was building an enormously strong castle at Kanturk, County Cork. There is a tradition in the area that MacDonagh forced wayfarers to work on this castle until they dropped dead, and that he even had their blood mixed with the mortar. Whatever the truth of this, the castle was certainly considered to be cursed. When MacDonagh asked his stepbrother, Macauliffe, who had the gift of second sight, to prophesy its future, the seer replied, "It is too good for the crows to live in. It will never be finished". The local English settlers, feeling it to be a threat, had the building stopped. In a terrible rage MacDonagh MacCarthy smashed in the glass tiled roof, an innovation for its time. Today the shell remains as a reminder of bygone times.
In 1565, Donal MacCarthy Mór (died c. 1596) of the senior branch of the family, was created Earl of Clancarthy by Queen Elizabeth, despite the fact that the MacCarthys were engaged in continuous fighting for land and power, sometimes with the English but more often against them.
Little has been recorded of the MacCarthy women, although a Lady Eleanor MacCarthy is revered because she protected Gerald Fitzgerald following the murder of his five uncles by Henry VIII in the Tower of London in 1537.
Florence (Fineen) MacCarthy Reagh (1562-1640), Lord of Carbery in Munster, was rewarded by Elizabeth for serving the Crown against his neighbours, the FitzGeralds of Desmond. Florence caused suspicion, however, by secretly marrying his kinswoman the Lady Ellen, the daughter and sole heiress of Donal MacCarthy Mór, at a midnight ceremony in Muckross Abbey. Deeming this union between the two main branches of the Clan Carthy to be a threat to her Munster sovereignty, the Queen committed Florence to the Tower of London. She trumped up a treason charge against him, accusing him of connivance with the Spanish, so that Florence was in and out of the Tower of London for the next 37 years. He has been described as a man of heroic stature and benevolent aspect. Fortunately he was also a scholar, and during his incarcerations he wrote a learned history of Ireland, though it had to wait 200 years for publication. In his later years he had little affection for the Lady Ellen who had borne him four sons, so much then for their romantic midnight marriage!
From the twelfth to the sixteenth century the MacCarthys ruled as Princes of Desmond, South Munster. The grand titles bestowed on them by Elizabeth were forfeited for their part in the later Jacobite wars, and they were driven out to put their military skills to use in Europe, Africa and America.
Justin MacCarthy (died 1694) was the third son of Donal MacCarthy, 1st Earl of Clancarthy, and Lady Eleanor Butler, a sister of James, Duke of Ormond. Justin served in Louis XIV's campaigns, but, following the English Restoration, he returned to Ireland to join James II in his attempt to oust the Williamites. James created him Viscount Mountcashel in 1689 and subsequently Duke of Clancarthy. Louis XIV lured him back to France, where he formed the Irish Brigade. Justin was wounded many times in the wars both in Ireland and France and, in 1694, he retired to the Pyrenees to recuperate, but died there. Lacking an heir, Justin had adopted his cousin, Florence Callaghan MacCarthy of the Carrignavar sept.
The third Duc de Clancarthy, Callaghan MacCarthy, was an officer in the Irish Brigade and a Knight of the Order of St Louis. He fell at the battle of Fontenoy in 1745. The seventh Duc de Clancarthy, Pol MacCarthy, served with Napoleon III as a lieutenant in the Franco-Prussian war of 1870. He was created a Knight of the Royal Order of Christ of Portugal. He left no male heirs.
Governing came naturally to the MacCarthys. Charles MacCarthy (died 1792), who commanded a regiment in the service of the King of Portugal, was appointed Governor of Miranda in 1790. Charlotte MacCarthy was descended from the Lords of Cashmany who had fled to France with James II. In 1764 she married Jean Gabriel Gueroult. Sir Charles MacCarthy (died 1824), her eldest son, was adopted by his uncle, Charles Thaddeus MacCarthy, whose name he assumed.
Sir Charles served in the Berwick Regiment in the Irish Brigade until the French Revolution, when he transferred to the English service. In 1812 he was appointed Lieutenant-Governor of Sierra Leone and Governor in Chief of Senegal. He was promoted to brigadier-general of the West Coast of Africa but was killed a few years later by the Ashanti. He had worked wholeheartedly against the injustice of slavery and is commemorated by an island named after him off the West African coast.
In the eighteenth century a MacCarthy was Governor of Madras and in the nineteenth century Sir Charles Justin MacCarthy was Governor of Ceylon.
In France the MacCarthys distinguished themselves in the army and in the Church. The Abbé Nicholas Tuite MacCarthy, who died in Annecy in 1833, was a magnificent preacher. Count Justine MacCarthy (died 1812) of Tipperary, who settled in Toulouse, was renowned for his library, which was said to have been worthy of a sovereign.
Not until 1896 did a MacCarthy attain beatification. This was Blessed Thaddeus MacCarthy, Bishop of Cork and Cloyne, who died in 1492 after a long and hopeless struggle against religious and political intrigue in Ireland. His body lies under the high altar in the Cathedral of Ivrea, Italy, where he died on his way home.
Diarmaid MacCarthy (c. 1630-1715) of Cork was probably a graduate of the famous Blarney Academy of Poetry of which he later became president. Alas, these were cruel times for the arts. The "Wild Geese" had fled and there was little money or regard for poets. When Diarmuid's horse died, there was no patron to pay for replacing it and so he was prevented from travelling. He wrote a tragic poem about his fate, a fate shared by all of the hereditary poets at the end of the Gaelic era, including his kinsman Eoghan MacCarthy (1691-1756), also of Cork, a prolific poet in both Irish and English.
In more recent times, Denis Florence MacCarthy (died 1882) was born in Dublin and held the chair of English Literature and Poetry at the Catholic University of Ireland.
Justin MacCarthy (1830-1912) came from a poverty-stricken family near Cork. He became a journalist, working in Cork, Liverpool and London. His early novels and biographies were reasonably successful and he eventually made history his speciality. He served in the Irish Party under Parnell and was Member of Parliament for County Longford. Overwork in both politics and literature wrecked his health and ruined his eyesight. He had to use dictation for the last fifteen years of his life.
Having been prolific builders in earlier days, it is not surprising that the MacCarthys should have produced a leading architect of the nineteenth century. J.J. MacCarthy, who designed St Patrick's Church in Armagh and many others throughout the country, has been described as the Irish Pugin. He also designed some fine country mansions, including Cahirmoyle in Limerick and, for the Earls of Granard, Castle Forbes in County Longford.
In the 1950s, after a determined search lasting over a century, a branch of the MacCarthy Reagh family was traced to Montreal, Canada. D'Alton McCarthy (1836-98) emigrated to Canada from Blackrock, County Dublin, with his parents in 1845. He made his reputation as a barrister and Queen's Counsel. He left the Conservative party and became an independent over the issue of the Jesuits' Estate Act. He was a supporter of the Equal Rights movement in Toronto.
For generations innumerable MacCarthys have emigrated to the USA, including many lawyers, priests and missionaries. Charles MacCarthy (1873-1921) was a political scientist, publicist and educationalist. He trained to become an outstanding inter-collegiate football player, while graduating in political science from the University of Wisconsin. He worked fruitfully with a succession of American presidents. Colonel Daniel E. MacCarthy was the first American soldier to set foot in France in 1917. When he landed there he found a letter of welcome from Pol MacCarthy, seventh and last Duc de Clancarthy. Eugene McCarthy was Senator for Minnesota from 1958 to 1970. Munster ancestry could well be claimed by Senator Joseph MacCarthy (1909-57), the investigator of Communists, and Mary MacCarthy (1912-89) the writer.
Australia undoubtedly harbours many a MacCarthy. Denis McCarthy sailed for Sydney in 1800 on the Friendship, following his capture during the 1798 rebellion. When he drowned in mysterious circumstances twenty years later, the Hobart Toum Gazette described him as "a man with a speculative turn who had been the owner of three vessels and had acquired considerable land and other property".
Some MacCarthys travelled no further across the sea than England. In the eighteenth century, conditions for the seamen aboard Royal Navy ships were not good. In 1798, during the Napoleonic wars, John MacCarthy led the mutiny aboard HMS Inflexible, leaving the fleet no option other than to sail into enemy ports in France and Spain. King George 111 intervened, and thereafter conditions improved aboard the ships.
Lillah MacCarthy (1875-1960) was for decades a popular dramatic actress. Bernard Shaw was one of her patrons. She gave a speech at the opening of the Shakespeare Memorial Theatre at Stratford-on-Avon, and wrote her memoirs, entitled Myself and My Friends. Sir Desmond MacCarthy (1877-1952) was one of London's most formidable drama critics. He wrote for The Sunday Times from 1928 until his death.
Timothy MacCarthy had the exhausting experience of accompanying the explorer Sir Ernest Shackleton (1874-1922) in Antarctica. When the Endurance sank, he escaped with Shackleton in open boats and sailed 800 miles in icy seas to the relative safety of South Georgia Island.
McCartney and MacCartney are both variants of MacCarthy, the Scottish family founded by Donal, a grandson of Cormac Fionn MacCarthy Mór, King of Desmond (died 1246). Liverpool is a second home for many generations of Irish and Ireland could well claim a share in the fame of Paul McCartney of the famous pop group The Beatles, who was born there in 1942. In the twentieth century, Britain continues to honour worthy people of Irish extraction. In recognition of his services to industrial relations, Sir Harold Wilson conferred a peerage, in 1975, on "Baron Bill" McCarthy of Hedington. He was born in 1925, left school at 14, and is a research fellow at Nuffield College, Oxford.
In war and marriage the MacCarthys have been allied to most of the great Irish families. The beautiful Muckross estate of MacCarthy Mór at Killarney is now in the care of the State and is a splendid centre for the history and folk arts of Kerry. It is in a beautiful setting by the lakes of Killarney, close to the Abbey where Florence secretly married his kinswoman, the Lady Ellen.
The name Carty is sometimes an abbreviation of MacCarthy, but is more often the appellation of the small and scattered sept of O'Carty.